New York, the golden plated "Big Apple"
If you are looking for an extraordinary present idea, then try to visit the GOLD to go® Gold ATM in New York. The gold ATM, an invention of Ex-Oriente-Lux AG, now
ncb system GmbH
in Reutlingen,
combines innovative technic with the handling of a regular dispensing machine.
Depending on the location, the ATM contains goldbars between 1 and 250 gram, as well as gold and silver coins.
Also it can be filled seasonally with jewelry and other products.
Did you ever buy gold at a dispensing machine?
You can buy gold cash or cashless. Secure, diskrete and anonym.
New York
The Gold ATM is located in New York, or to be more precise, at Stack's Bowers, only two streets away from the Central Park. After a relaxing walk through this world wide famous park, take a few minutes to your goal to an unusual tourism souvenier. The Stack's Bowers Galleries is in 123 W 57th St.
The current product stock (2018-01-19 06:15):
Goldbar 1 ounce
Goldbar 10 gram
Gold bar 5 g
American Eagle 1 ounce silver
Bison, Bronx Zoo 1 oz Silver piece
Bison, Bronx Zoo 1/2 oz Silver piece
Big Apple, rare coins
The Stack's Bowers Galleries are known by selling rare coins and precious metals. Of course, the well known Gold ATM of GOLD to go® has its stand here, where you can buy real gold. The clou at this ATM: You even don't have to enter the building, as the ATM shows its face to the outside.


You will get your product in an attractive gift box.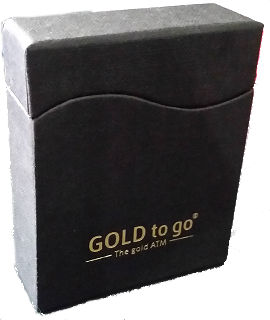 Anonym, discrete und extravagant. The GOLD to go® Gold ATM.
The Gold ATM in New York is oprerated by Stack's Bowers New York.
Technical support: TS Hard- und Software Support